Re-opening the Doors of Hospitality
Yesterday Prime Minister Boris Johnson provided music to the ears of every hospitality business owner in the UK when he suggested that some parts of the hospitality industry may be able to begin re-opening sooner than initially expected.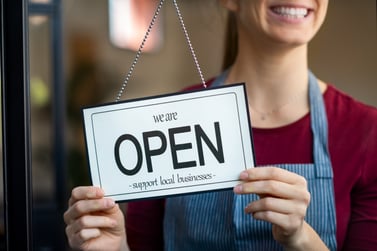 He didn't specify any exact dates, however with the initial date of Friday 4 July 2020 bookmarked earlier this month, maybe we can expect to see a re-opening within the next 4 weeks… fingers crossed!
The World Health Organisation (WHO) have also changed their recommended social distancing rule from 2 metres to 1 metre, this again bodes well for hospitality businesses ahead of reopening!
For the first time in what seems a very, very long time we can begin to seriously think about returning to our favourite pub, our favourite restaurant, and grabbing a coffee and slice of cake in our favourite cafe or coffee shop.
What does all this mean for the business owner though? - can they reopen and go back to normal business like they did before 20 March 2020?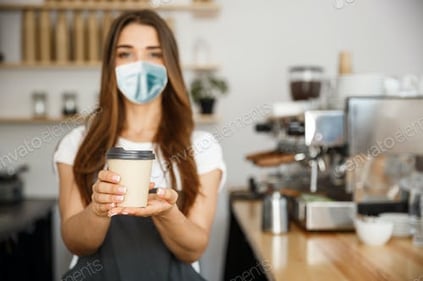 In short, the answer is no.
There will be many changes and guidelines businesses will have to abide by to ensure they are providing a safe environment for their staff and customers to enjoy.
Last week UKHospitality released an initial template of guidances for pubs, bars and restaurants ahead of reopening.
Here are a few key points;
Site-by-site risk assessments to be carried out
Customer and staff flow to be considered part of the risk assessment
Tables to be spaced apart, in line with the social distancing operational at the time
Single use, laminated menus should be implemented
Tables and commodities a customer comes into contact with should be cleaned after each use with disinfectant
Remove salt and pepper shakers from tables
Individually wrapped sauces in disposable sachets, handed out by staff upon request
Kitchen cleaning regimes should reflect the need to reduce risk from coronavirus
Staff movement should be monitored/controlled to ensure social distancing is adhered to
Hand washing of glassware, plates and cutlery should be avoided where possible. Glassware is also to be washed separately from plates and cutlery.
Ban customers drinking at bars
Restrict number of customers ordering at the bar and create a directional traffic flow
Discourage customers from returning empty glasses
Cutlery not to be sitting on tables for periods of time, instead laid when the meal is served
Outdoor areas and gardens to be regularly patrolled, ensuring no large groups form
Plan for customer toilets where social distancing rules still need to be adhered to
As good as the news is that businesses can begin to re-open, the new challenges and guidelines owners are presented with are going to cause many headaches! How does a business effectively manage all of these changes from their normal operation?
Click for the answer!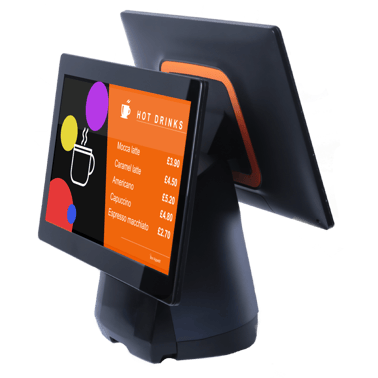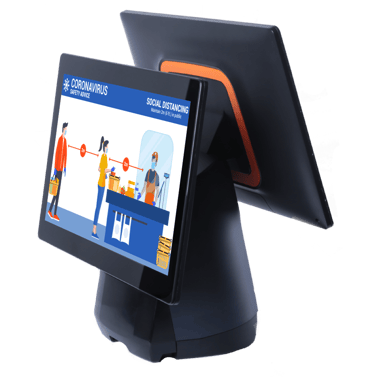 DISPLAY MENUS AND KEY NOTICES ON A CUSTOMER FACING SCREENS
As hospitality businesses across the land prepare for their re-opening in the coming weeks, there may have never been a more significant time for owners to review how they currently operate in order to meet the new normal of hospitality and still be a profitable entity.
Identifying how to monitor new costs, survive on new reduced takings, adhere to new guidelines and become familiar with new ways of trading are real challenges that can't be effectively managed with outdated methods and obsolete systems supporting the business.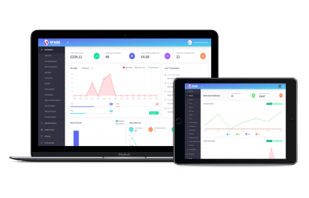 Businesses today require modern technology to prosper and succeed over the modern challenges they now face. They require innovation to overcome challenges, they require integration to seamlessly link their business systems together to reduce costs and speed up service, they require greater interactivity with their customers on a more personalised level to make their customer feel special and in-turn increase their spend.
SPARK provides innovative software which enables the business to make changes, introduce new working methods, ideas, and products through it's purpose-built technology.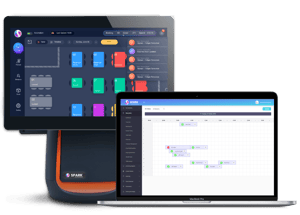 Seamless integration is at the heart of SPARK's all-in-one solution, businesses can unify their multiple systems into one multi-functional, easy-to-use, cost-effective platform with a front end EPoS solution and back end business management Cloud Office tool where easily accessible analytics allow owners to make data-driven business decisions.
With SPARK you can increase personalisation with your customer base using the CRM tool which provides detailed customer information ranging from birthdays, anniversaries, dietary requirements, in venue preferences to name a few. This greater level of personal interaction means customers feel special and are more likely to recommend, review and spend more.
SPARK EPoS is the industry's most technologically advanced software and total business management solution available in hospitality today. To learn more about how it can help your business transition and take on the modern challenges the hospitality sector faces..