After keenly tuning into Boris Johnson's coronavirus national briefing on Sunday night there's a date that is firmly pencilled into my diary, well digitally marked in my online diary anyway - Friday 4 July 2020.
That is the date that has been mooted as the earliest re-opening for restaurants, pubs, and bars or at least "some of the hospitality industry". The hospitality industry of course came to an abrupt halt just over 8 weeks ago on 20 March and while 4 July may be still another 7 weeks away it is a timeline to work towards and light at the end of the tunnel.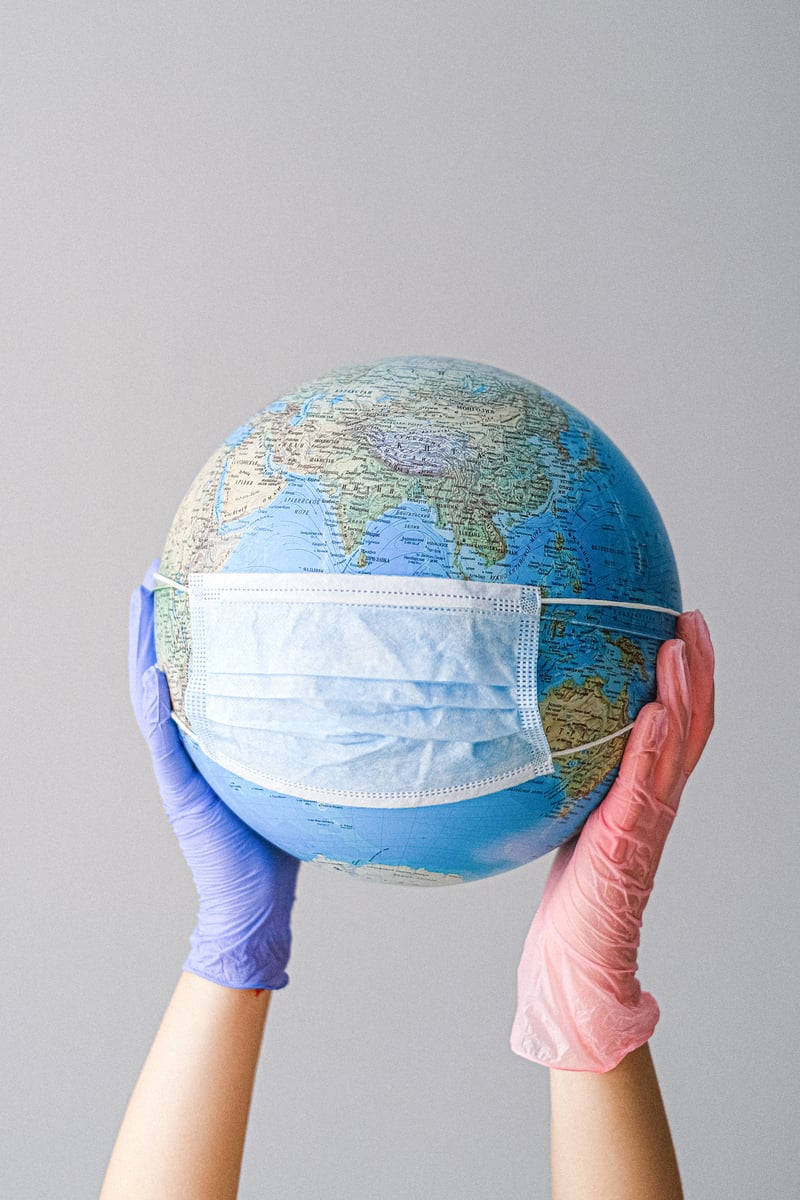 Whilst there are no firm guidelines on social distancing parameters outlined yet, it would be safe to assume tightly-packed tables to maximise covers, shared booths, benches and tables as well as hustling, bustling bars are something of times gone by - at least for the foreseeable future anyway!
It's widely expected venues will initially have to adjust to a new normal and operate with reduced capacities with customers sufficiently spaced apart. This will leave business owners with the challenge of not only coming up with ingenious ways of keeping both customers and staff safe, but also ensure they maximise their profits from a restricted customer flow.
Considerations such as; Yield managing table turnover, table time allowances, efficient venue layouts with adequate distancing and effective staff management will all be paramount for hospitality venues come July.
Demand will likely be high when businesses reopen too as eager customers look to return to their favourite haunts, but customers will also want to be assured they are returning to a safe environment.
We know that in the 'pre-Coronavirus era' 80% of customers were researching a venue online prior to a visit - it'd be a fair assumption that number will increase as customers will look for peace of mind in recent reviews and venue notices going forwards. We also know that nearly 70% of UK customers expected to pre-book their table online 'pre-Coronavirus', so again it'd be a fair assumption that even more customers will be keen to pre-book with the knowledge their favourite restaurant will be providing a restricted service, at a reduced capacity with limited tables available.
The best solution for venues to cope with the forthcoming demand and challenges posed is an online booking platform. Online booking systems are a great way to convert potential customers from online directly into live customers. They also allow the customer to place bookings at a time most convenient for them whilst being guided by the businesses set availability.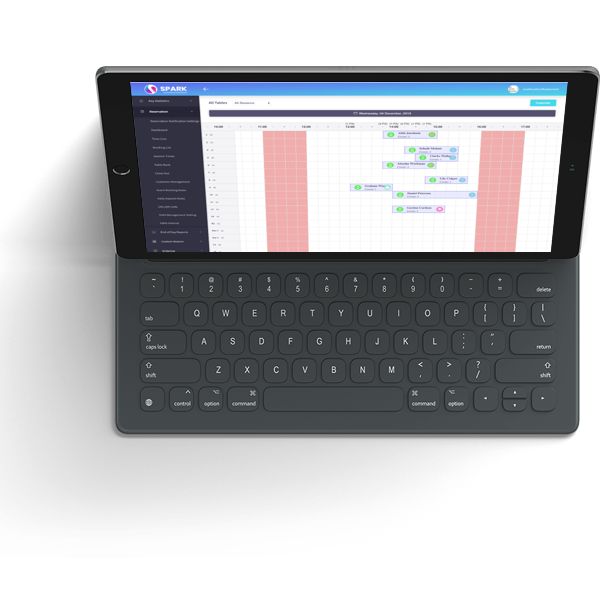 There are many online booking platforms for businesses to choose from and some with very appealing pricing structures on the surface! At a time when hospitality businesses have had little to no income over the past few months and will undoubtedly be in need of a cash flow injection, businesses need to ensure the pricing structure does not have any hidden costs like fees per booking or customer. The vast majority of online booking platforms do have these and some of the most well known services in the industry can charge up to £2 per customer! Even at a modest level of 250 customers in a month that is a £500 monthly hole in a struggling business owners pocket!
This is one of the reasons why SPARK has recently released it's revolutionary new Reservations platform which operates as either a singular service to businesses, or integrates seamlessly with the SPARK EPoS Terminal as a first of it's kind fully-integrated online reservations platform. Generously priced from a flat fee of just £29 per month with no additional charges, SPARK Reservations is the perfect solution for businesses looking to adapt, improve and meet the demands of the new Hospitality landscape in the post-lockdown era!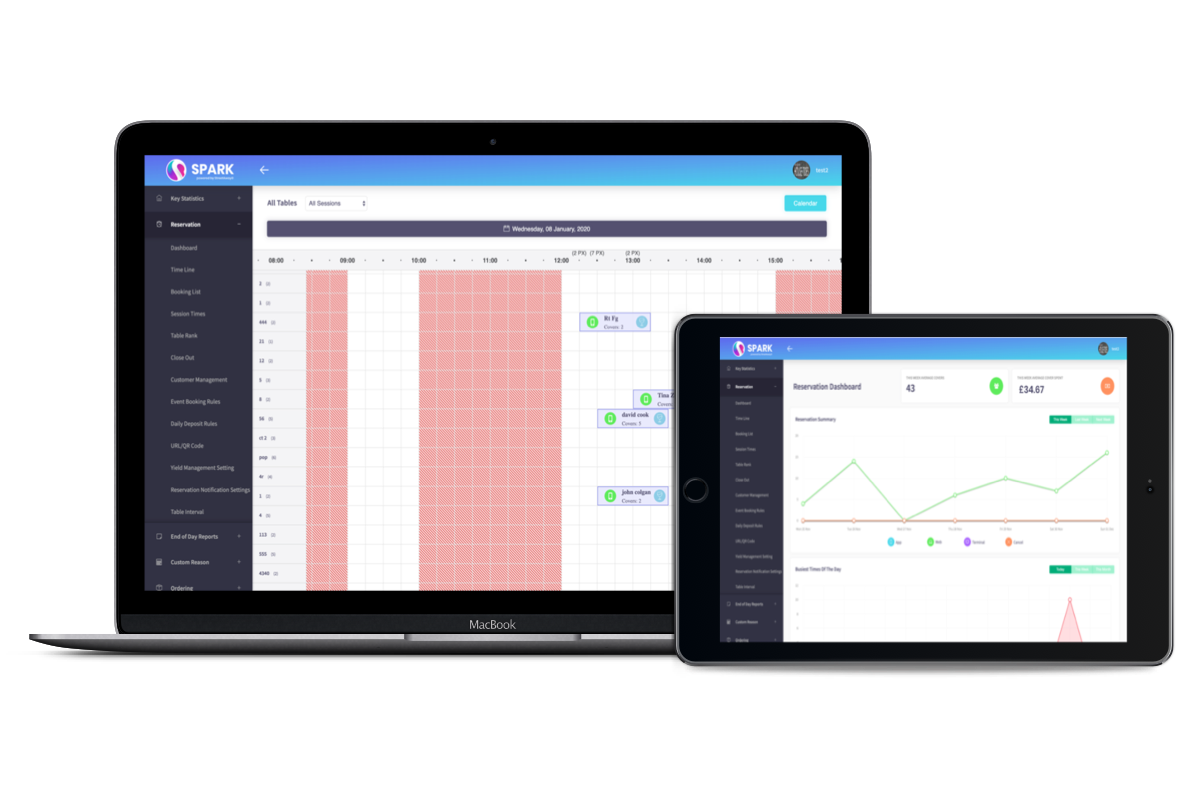 If you'd like to learn more about SPARK Reservations and how it will help you to yield manage your table turnover, set time allowances, create efficient and adjustable venue layouts, create a personalised customer database and effectively manage staff shift patterns in one easy-to-use system then contact us here at - info@sparkepos.com