The Benefit of EPOS for Small Businesses
Many small businesses are concerned when it comes EPOS systems for their venue. Different till systems possess different capabilities at different pricing, and may seem unnecessary for smaller venues.
However, EPOS systems have become a necessary tool within Hospitality, which is why we wanted to highlight the benefits of POS systems specifically for small businesses.
Features
Larger businesses have an entirely different operation compared to smaller venues. This also means lower costs for SMEs looking for a POS system. You don't have to spend extra on features you don't need, and can benefit from basic yet innovative features that will improve your business overall.
The great thing about SPARK EPoS systems is that they can be tailored to your venue, and certain features can be added or omitted depending on your needs.
Monthly packages start from as cheap at £38, meaning smaller businesses can achieve the same quality of service as bigger venues, without having to pay for unwanted features!
Hardware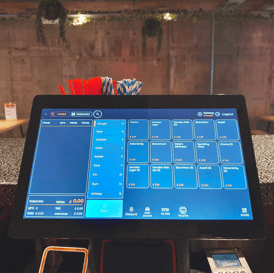 An EPOS might seem like a costly investment but worthwhile in the long run. You can choose what your venue requires, which is why there are different products and options available for your specific needs.
A smaller business can benefit from a system that suits them, for example, a single screen terminal with a built in printer - this saves space and money!
By having a durable and scratch resistant terminal, especially within a busy environment, means less chance of damage and cost of replacement. Cheaper hardware will only mean more breakages and expensive repairs which will add up and end up costing the business more.
Smaller businesses can have a fully integrated POS system with the basic functions and cheap pricing, without compromising on the quality of hardware. If that's why you're looking for, book a FREE demonstration of SPARK below!
Easy Navigation
Regardless of the size of the venue, an intuitive User Interface ensures a smooth operation for all business owners. It improves efficiency and the quality of service which ultimately, boosts sales.
As a small business owner, time is precious when it comes to training staff. So an intelligent system that's simple to use and navigate will cut down the time spent training employees.
An EPOS is a central component of the business, and can make your employee's job easier with an organised system.
Categorised menu, transaction list, bill splitting as well as back-office reports, stock management, employee profiles and more. SPARK is a manageable system for the whole team that allows control over different aspects of the business.
Table-Side Ordering
Replacing the trusty notepad and pen with a more streamlined method of table-side ordering will increase productivity and reduce human error. No more messy handwriting and miscommunication to worry about!
SPARK's PDQ and iPad ordering allows staff take orders at the table. It also encourages up-selling by suggesting similar or popular items that staff can recommend to customers.
Best of all, the handheld device is synced with the main terminal and all orders are sent to it, meaning chefs can get started on order and waitstaff can immediately attend to another customer!
Cloud-Based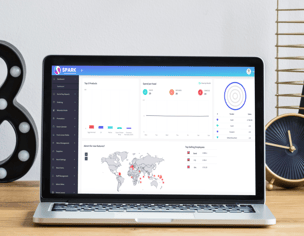 Hospitality businesses handle important data, staff and customer details, and other sensitive information every day. A cloud-based system prevents loss of data by storing key information on a cloud server, which can be securely accessed anywhere in the world - as long as you're connected to the internet.
Similarly, a proper cash management system stops possible theft and misuse of the system within the workplace. By using the SPARK back office, control who can process refunds, voids and discounts and grant access to select members of staff.
The right EPOS system should have sufficient security measures and a cloud-based back office, and the ability to create back-ups of data should the terminal be damaged or stolen.
EPOS systems are just as valuable and essential for a small businesses, and aren't exclusive to larger venues because of their capacity.
There are features and hardware that can aid SMEs and boost sales. It'll also give you an edge over your competitors who haven't considered an integrated POS like SPARK!
Interested in finding out more about SPARK? We are offering FREE demonstration of the system!