Mobile Food Business: Why They're Successful
Usually at events or festivals, there'll be range of catering trucks and pop-up food businesses ready to serve hungry customers. The options are endless and popular amongst consumers.
This results in mobile catering doing really well. Many businesses use this opportunity to promote their restaurant and drive more sales to their main venue, while other catering businesses are solely mobile and rely on different locations to sell their items.
Popularity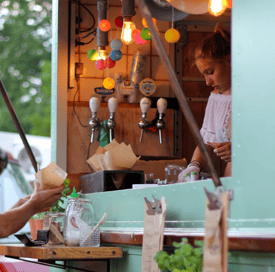 Pop-up businesses are known for providing convenience. It's quick and accessible for hungry customers!
Not only is it easier for the customers, but for the owners, too. Running a mobile food truck means it's more flexible, easier to manage and opens up many opportunities.
For starters, pop-up businesses have lower business rates than venues, and even have low start-up costs to get you going.
It's attainable for owners with an interest in food and hospitality requiring limited restaurant experience.
That doesn't mean someone with culinary training can't venture into pop-up businesses. In any case, it's business venture with lower risks and potential scalability.
New Locations, New Customers
There's the advantage of attracting new customers at new locations. Mobile businesses have more flexibility in terms of where they can trade, though there are some restrictions depending on the council or borough they're operating in.
But compared to main site venues, mobile catering businesses allow for more freedom and the opportunity to appeal to more customers with every location. The ability to travel also helps them promote their brand wherever they visit.
Effective Promotion
We mentioned how visiting new areas is valuable promotion for mobile catering businesses. Considering the truck is branded and the food is outstanding, it's a chance to create a positive buzz around it.
Then there's scarcity of it - customers feel inclined to buy products for fear of missing out, using emotional marketing to boost sales.
Social media is the obvious tool for promotion. It's quick, effective and global, It's also a great way to let customers know where they'll be. This combined with their ability to relocate means more brand awareness and revenue.
Opportunities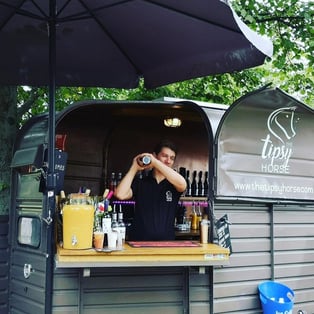 There are various success stories when it comes to mobile food trucks - businesses that have done increasingly well and gotten nationwide attention.
The great thing about mobile catering and pop-up events is that it's a low cost, low risk venture with potential growth.
Whether that's by trading at festivals, getting private catering jobs or possibly opening a main site following the mobile businesses success.
The opposite is also possible. A good example is The Tipsy Horse, a bar in North Tyneside. They now attend private events and festivals with their mobile business and mobile epos system!
By using the SPARK terminal and its offline mode, they've expanded to provide a service outside of their main venue.
There are opportunities for development when considering mobile catering. It can mean starting small and then then scaling up, or in the case of The Tipsy Horse, expanding on an existing business.
These are a few of the benefits that lead to many mobile businesses being successful. Their rise in popularity could be down to convenience or simply because it's considered trendy in this day and age. There's certainly more flexibility and lower risks when considering mobile businesses as a possible venture.
Interested in learning more about SPARK as a mobile epos system? Book your FREE demonstration to view all the available features for yourself!