SPARK EPoS is delighted to announce its collaboration with Maldron Hotel Newcastle, aligning with the hotel's focus on innovation in 2023. As 2023 begins, the addition of ButlerBot W3 to the Newcastle branch highlights their commitment to modernising the hospitality experience. This partnership is a pioneering step towards modernisation and represents the dedication of both SPARK EPoS and Maldron Hotel to innovative technology.
Who is ButlerBot?
ButlerBot W3 is an all-in-one hotel solution that can provide a comprehensive solution for any hospitality venue, combining safety, warmth, and smarts into one state-of-the-art delivery service. Its sophisticated design, featuring noble gold or premium silver, adds elegance to your hotel while its versatile storage capabilities make it ideal for carrying multiple items at once with utmost privacy. With ButlerBot's autonomous elevator use and convenient amenity transport feature, guests can experience convenience like never before!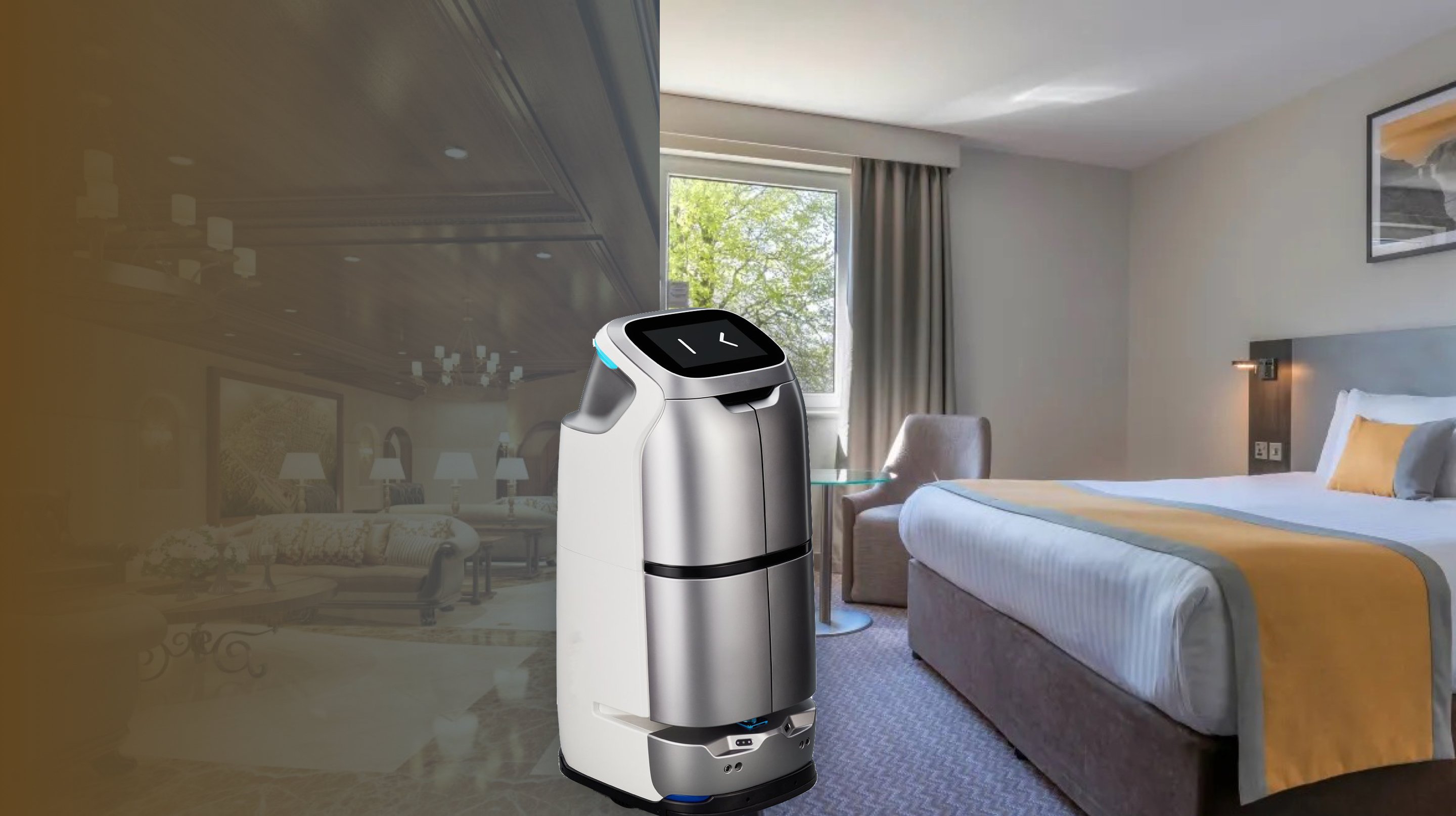 What can ButlerBot do?
ButlerBot is the smarter delivery option for hotels. With its versatile compartments, ButlerBot can deliver one-two-three or even four items. Its user-friendly interface allows staff to quickly send deliveries to guest rooms. Staff simply place the items in the compartments, choose the room and send it on their way. ButlerBot is capable of operating the lift to easily navigate to each floor. Upon arrival, ButlerBot will ring the room to notify the guest. Guests simply click "done" after retrieving their items and ButlerBot returns to its starting position or recharges at the dock.
What are the benefits of ButlerBot?
Our state-of-the-art robot, ButlerBot, brings a wide range of benefits to hotels, streamlining processes and improving guest satisfaction. From concierge services to room service, ButlerBot has revolutionised the traditional hotel experience, delivering efficiency and convenience like never before. Some great benefits of ButlerBot include;
Staff retention, during busy periods especially, is a major challenge for businesses, and robots offer the perfect solution. A robot can be a valuable ally for businesses looking to provide excellent services. Robots are perfect for tackling tedious tasks such as clearing tables or delivering food, enabling employees to concentrate on customer service during peak periods and work more efficiently overall.
By obtaining a robotic assistant, businesses can experience an immediate return on investment due to its one-time cost. This eliminates the need for lengthy payrolls and reduces overhead expenses in comparison with traditional labour costs.
People are drawn in by innovation and are fascinated with robots. Give your customers a cutting-edge dining experience that is sure to stand out. Incorporate robots into the ambience of your restaurant or hotel for an unforgettable, technologically advanced service they won't find anywhere else!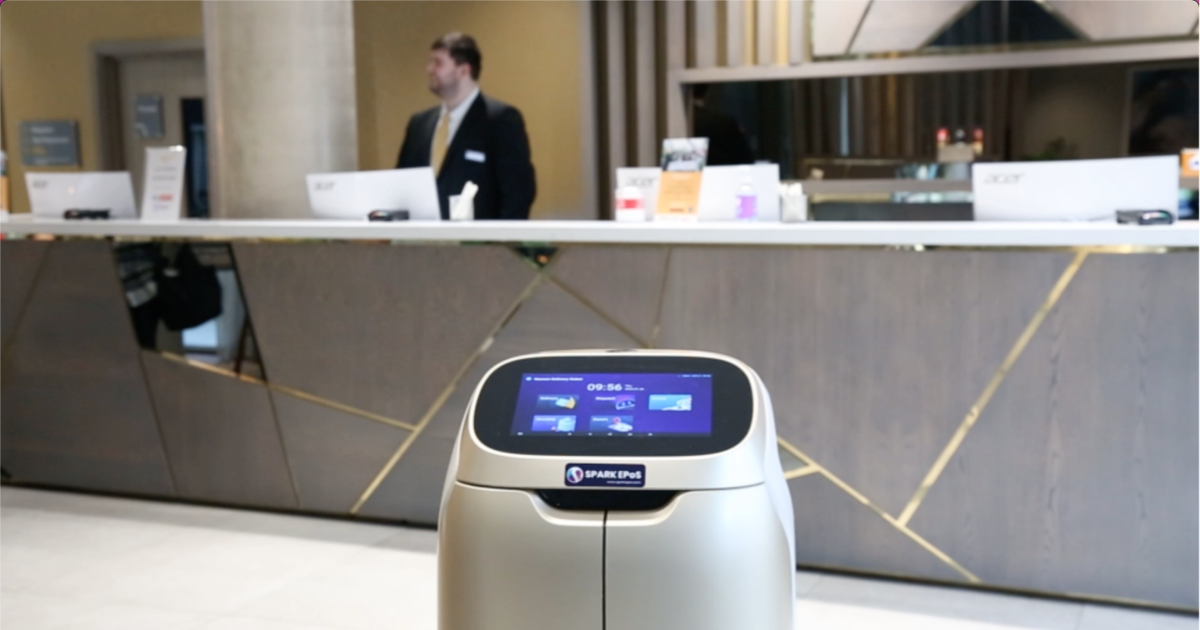 SPARK EPoS x Maldron Hotel
The partnership between SPARK EPoS and Maldron Hotel represents a positive step for the hospitality industry as it showcases the dedication of both companies incorporating innovative technology. By bringing together SPARK's expertise in technology solutions and Maldron Hotel's commitment to delivering exceptional guest experiences, this collaboration has resulted in the integration of the state-of-the-art room service delivery robot, ButlerBot. With its sophisticated design, efficient functionality, and versatility, ButlerBot has the potential to revolutionise the traditional hotel experience, streamlining processes, and improving guest satisfaction. This partnership not only demonstrates the companies' focus on staying ahead of the curve in the rapidly evolving hospitality industry but also highlights the value of technology in enhancing the guest experience.
Anna Wadcock, the General Manager of Maldron Hotel Newcastle, explained to us the decision to introduce a robot to assist staff in Maldron "We're never ever going to replace our amazing people that we have in the business but we need to look at different innovations that we can utilise..."
This partnership is a big step towards modernising the hospitality industry and we can expect to see similar advancements in the future.
The collaboration between SPARK EPoS and Maldron Hotel in the integration of ButlerBot W3 marks a new chapter in the hospitality industry. With its innovative design, state-of-the-art technology, and unparalleled functionality, ButlerBot is set to deliver a truly unforgettable and efficient guest experience. As technology continues to play an increasingly important role in the hospitality industry, hotels that embrace innovation such as robotics are sure to stay ahead of the curve. We can't wait to see what the future holds for ButlerBot and the positive impact it will have on the hospitality industry as a whole. So, if you're looking to take your hotel experience to the next level, it's time to consider ButlerBot.
Want to learn more about ButlerBot in Maldron Hotel? See first-hand how robotic solutions are empowering hotel operations to take their customer service to another level, here is a video of ButlerBot in action!