One simple way to boost profit in your venue
Business owners from all industries are continually searching for new ways to improve their operation and increase their profits. Modern innovation in technology tends to be the driving force that enables these changes and the hospitality industry is no different.
Effective utilisation of modern technology will help a business reduce operational costs, streamline their operation, have greater and more direct interaction with their customer base and ultimately improve their service delivery, resulting in more sales.
In the hospitality industry customer service delivery is arguably the most important aspect of any successful business. If a business can improve the speed and efficiency of its service and combine that with a more personable level of interaction with customers it will generate more sales.
Sales = Profits and Profits = Happy Business owners!
So how can you boost profits in your business with one simple change?
The answer is SPARK's fully-integrated handheld devices. SPARK have identified the key areas of the customers in-venue journey and provided the tools to deliver the experience modern customers demand. The SPARK handheld ordering and payments devices are purpose-built for the highest level of customer service and designed to maximise every opportunity to up-sell to your customers.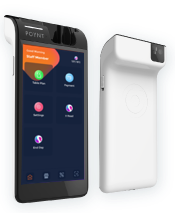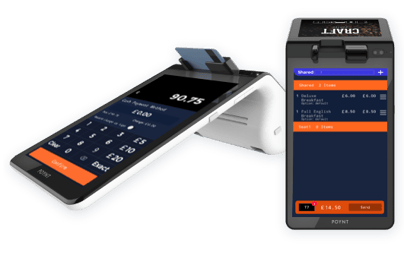 Sell, sell, sell…
The SPARK SP Handhelds offer something the conventional pen and paper ordering method cannot, up-sell prompts and a guided service journey.
Up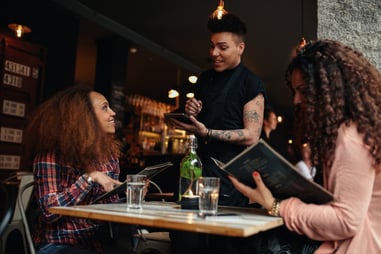 selling becomes a lot easier when the instructions are provided right in front of you, waiting staff are guided to upsell items which are individually selected to perfectly compliment each dish which provides a greater level of interaction with guests.
The mobile ordering devices also allow for dish variations, preferences, special requests and allergens to be recorded accurately for your chefs.
Not only does the SPARK SP Handheld range increase sales, but it also increases profits through various other means such as;
Reducing wasted Staff Hours
Reducing refunds, voids and comps.
Increasing table turnover
Key Data
Reduce Wasted Staff Hours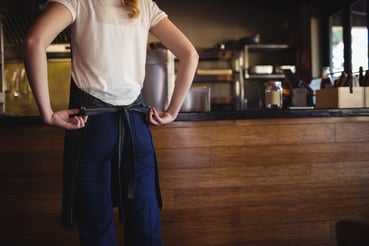 On average a waiter or waitress will cover 23,000 steps during a full shift, that's the equivalent of approximately 11-12 miles, not far short of a half-marathon. For the average person that will take around 4 hours to walk that distance - imagine if you could reduce the steps covered by half, you would save your staff 2 hours per shift!
With the SPARK SP Handheld devices you can do just that as orders are delivered direct to kitchen from the table so no need to deliver the paper ticket by hand. Also no need for the waiter or waitress to travel back to the main terminal to process the order as the devices are fully integrated with your main terminals. Staff also do not need to travel back and forth from table to the terminal to collect bills, card machines for payment or calculators for split bills as you can do all of the above with the SPARK SP devices. The multifunctional devices come in-built with printers, accept all card payments and can also calculate split bills by item, average or seat at the tip of a finger with its intelligent software.
Reduce refunds, voids and complimentary bills
There's no greater bug bear for a chef who has the food they have just prepared brought back to the kitchen and told they need to start again as the order was incorrect. If you've worked as a waiter or waitress, you've been there at least once, I know I have!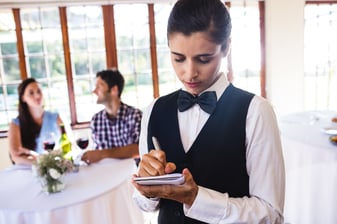 Not only is this painful for the chef, but it's also painful for the owner whose stock is being wasted and having a hole burned in their pocket.
Not to mention the customer who is becoming increasingly impatient as they wait for their food order and thinking about all of the other places they can go to next time and receive the quick, efficient and attentive service they desire.
SPARK has prioritised reducing the element of human error with it's SP handheld devices, the intuitive software will increase the accuracy of orders taken, highlight and identify any allergens, preferences and requests the customer may have and deliver a precise, easily readable ticket direct to the kitchen straight from tableside. A full breakdown of ingredients used in all dishes and drinks are also easily accessible for waiting staff when they are posed with challenging ingredient questions, thereby ensuring no issues, misunderstandings and an enhanced customer experience.
Intuitive design for increased Table Turnover
The SPARK SP1 & SP2 innovative handheld devices integrate seamlessly with your main terminal providing a mobile ordering and payment device in your venue. Payments at tableside reduces the time spent by staff journeying back and forth from the main terminal with copies of the bill and for the PDQ machine for card payments. With the SP Handheld devices you can print receipts at the table, split the bill instantly as required and take contactless and chip and pin payments.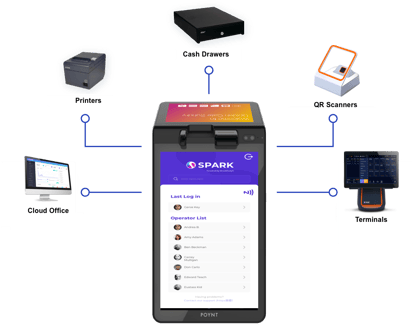 Group tables can often take a prolonged amount of time trying to calculate who owes how much on the final bill. This is wasted time for the customers who want a convenient and quick payment and wasted time for the business who want to turnover that table for their next customer. The ability to instantly split the bill for the group by item, average or seat with the click of a button is a huge benefit to businesses who can now turnover tables quicker, meaning more customers and more sales and it also improves the customer's journey with a seamless transaction.
Key Data
The SPARK SP1 & SP2 devices sync in real time with your main terminals, ensuring accuracy across all tables in the venue. The devices also collate all data centrally in your Cloud Office where you can view all reports and transaction data with our easily accessible analytics at any time of the day.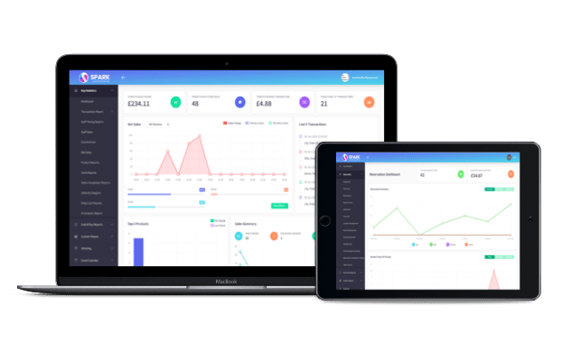 With the simple transition from pen and paper to these smart handheld solutions businesses can begin to incorporate intelligent ordering and seamless payments in one unified solution. The SPARK SP Handhelds enable businesses to;
Increase sales figures with intelligent up-selling features
Provide an enhanced customer experience through a speedier, more interpersonal and efficient service
Consolidate customer, staff and product data to streamline operations
Reduce wasted staff time
Reduce refunds, voids and mistakes by human error
Accelerate profits by lowering costs and increasing sales

If you'd like to see more about our handheld devices you can book a live online demo with me to see if it's a good fit for your business.