Can Customised Receipts Help Promote Your Business?
Marketing is a crucial part of any business and a long process. Developing an effective campaign takes time in order to have the desired effect on your audience - not to mention the cost of running these campaigns!
But there is a less time-consuming and cost-effective method to promoting your venue - and that's by having branded receipts! It may not be a conventional marketing method that comes to mind, but there are lasting benefits to having your logo on receipts.
Effective Marketing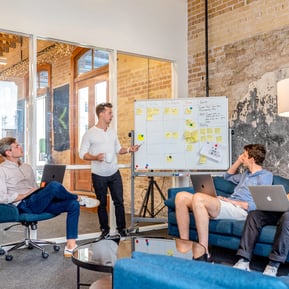 A lot of hospitality venues use plain text receipts. While it gets the job done, it's an opportunity to optimise your efforts and promote the business in the long-term.
By seeing your logo, it can influence a customer and remind them of your business when they need it. This is best known as subconscious marketing, where certain touch-points may go unnoticed in the moment, until there's a purchasing need.
Retailers brand their bags and packaging as a form of promotion. It encourages brand awareness and attracts potential customers - either as subconscious marketing or reassurance of the brand knowing others have shopped there.
Hospitality businesses can mimic this without the cost of manufacturing branded bags, instead it'll be on the receipt and is far more cost-friendly.
Customise With SPARK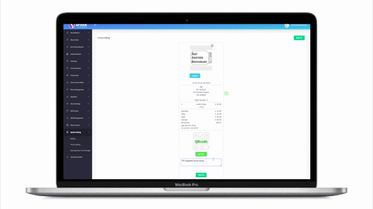 At no extra cost to your plan, SPARK allows you customise your receipts with a logo and unique QR code. The best part is you can do it yourself in minutes through the SPARK back-office!
All you need is to upload an image (keep in mind it will be printed in black and white) and paste a URL to generate a unique QR code. When scanned, it'll take you to the chosen web-page.
With it being so accessible, it can be updated whenever. Generate a QR code when there are new promotions you want customers to know about - or if the branding changes, easily update it through the back-office.
It's simple and cost-effective, and there are no time-restraints compared to detailed marketing campaigns.
Interactivity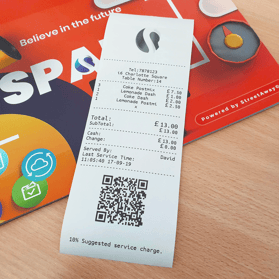 Having a branded logo will set you apart from other venues, but adding an element of interactivity is a step above that.
We've established the ease of generating QR codes. It's a convenient way of getting information to your customers with limited space on receipts.
QR codes have made their way into everyday life and are part of promotional materials, packaging, posters and so on.
It gives people quick access to a web-page and eliminates the need for searching, meaning customers are more likely to use the code.

Marketing doesn't have to be costly or time-consuming. Even if you choose to plan a marketing campaign, having branded receipts won't hinder other marketing ideas. Just by having a logo on your receipt will give you on edge on your competitors and attract potential customers to your venue.
Interested in learning more about SPARK? Click here for more information or book your FREE demonstration below!